Buyer's Guides
A collection of buyers guides for various products related to home improvement. You can find helpful tips and advice on how to choose the kitchen faucets, bathroom sink faucets, tub faucets, freestanding bathtubs, furniture, and more for your kitchen, bathroom, or outdoor space. Learn from the experts at TopCraft and make your home more beautiful and functional.

Find out how to buy the right kitchen faucet for your home with our detailed guide. We explain the different types of kitchen faucets, how they fit your sink, what materials and finishes they come in, and what features they offer. Learn how to make the best choice for your kitchen style and budget.
Learn how to choose the best bathtub faucet for your bathroom with this comprehensive guide. Find out the different types, styles, features, and installation options of tub faucets.
Discover the perfect bathroom sink faucet with this in-depth buying guide. Learn about popular styles, finishes, features, performance, installation type, applications to easily find the ideal faucet to match your decor. Expert tips help you choose the right bathroom faucets for vessel sinks, bath vanities, and more.
Embark on a journey to luxurious shower experiences with TopCraft's Shower System Buying Guide. Immerse yourself in an exquisite collection of rain shower systems and comprehensive shower sets. Elevate your bathroom ambiance with seamless installation and advanced features. Discover the shower upgrade that suits your style—explore the epitome of indulgence at TopCraft today!
 Navigate the world of toilets with confidence using TopCraft's comprehensive Toilet Buying Guide. Uncover expert insights and explore a curated selection of premium toilets tailored to your needs. From space-saving designs to cutting-edge features, our guide empowers you to make informed decisions, ensuring your bathroom reflects both style and functionality. Elevate your toilet shopping experience with TopCraft's expertise – start your journey to a stylish and efficient bathroom today!
Transform your bathroom with confidence using our comprehensive Bathroom Sink Buying Guide at etopcraft.com. Discover expert tips, diverse styles, and top-quality options tailored to your needs. Upgrade your space effortlessly with our user-friendly guide. Explore now for a seamless shopping experience.
Elevate your kitchen with the ultimate Ceramic Kitchen Sink Buying Guide at TopCraft. Uncover top designs, sizes, and features tailored to enhance both style and functionality. Make a savvy choice with expert tips, ensuring your kitchen makeover is a seamless success. Explore our curated collection and find the perfect ceramic sink to transform your culinary space. Upgrade intelligently with TopCraft today!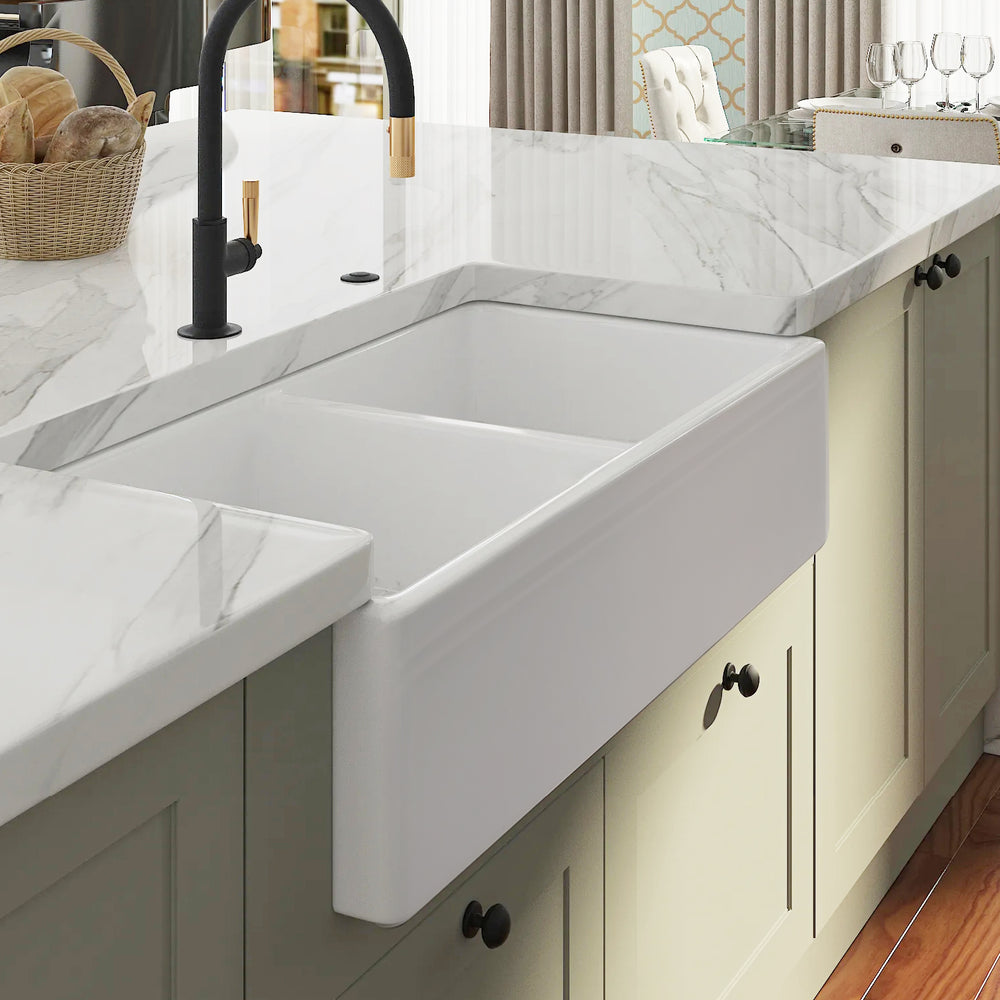 Revolutionize your kitchen with TopCraft's Stainless Steel Kitchen Sink Buying Guide. Immerse yourself in a curated selection of high-quality designs, sizes, and features that redefine your culinary space. Our expert insights empower you to make a well-informed choice. Elevate your kitchen with durability and style – discover the ideal stainless steel sink tailored to your needs. Explore our comprehensive guide for a seamless upgrade today!
Filters
Superior Quality Assurance
Home improvement made easy: kitchen and bathroom fixtures, patio furniture, and more. Exceeding your goals.
Budget-Friendly & Pay Safely
Save more with TopCraft! Choose from different products to suit your budget and needs. Pay safely with PayPal or Credit Card.
Fast & Free Shipping
Enjoy fast & free shipping nationwide with FedEx / UPS / USPS / Estes.
Customer Service Time
8:00pm - 6:00am UST Monday to Saturday