Ceramic Sinks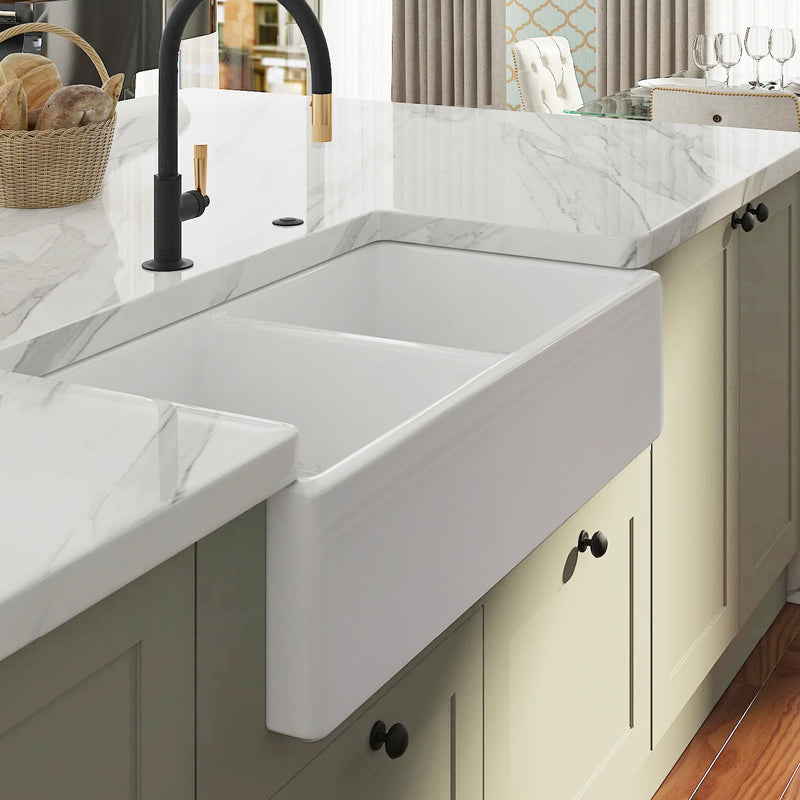 Save Up to 15% Off! Transform Your Kitchen with TopCraft Ceramic Sinks
If you're looking for a ceramic sink that will transform your kitchen into a cozy and elegant space, you've come to the right place. At TopCraft, we offer a variety of ceramic sinks that are perfect for any kitchen style and budget. Whether you want a classic white porcelain sink, a modern double bowl sink, or a charming farmhouse apron sink, we have it all.
Click Here to Expand or Collapse More

Our ceramic sinks are made from high-quality materials that are durable, easy to clean, and resistant to stains, scratches, and heat. They also have a smooth and glossy finish that adds beauty and brightness to your kitchen. Our farmhouse sinks are designed to fit seamlessly into your countertop and create a focal point in your kitchen. They have a deep basin that can accommodate large pots and pans, and a curved apron front that adds character and warmth.


Whether you choose a single bowl sink or a double sinks, you can be sure that you're getting a ceramic kitchen sink that will last for years. So don't wait any longer. Browse our collection of ceramic sinks today and find the perfect one for your kitchen. You'll love the way it looks and performs. TopCraft Ceramic sinks in stock are available to order and enjoy free shipping on all USA orders. We Accept Paypal and Credit Card Payments. Order now and get ready to enjoy your ceramic kitchen sink in no time!

Note:

The Out of Stock Product Variant SKUs: 3318, 3018A, 3020, and 3320 are out of stock at the moment, and they will be shipped as soon as they becomes available again. Estimated Availability Date December 2023. 
Filters
Superior Quality Assurance
Home improvement made easy: kitchen and bathroom fixtures, patio furniture, and more. Exceeding your goals.
Budget-Friendly & Pay Safely
Save more with TopCraft! Choose from different products to suit your budget and needs. Pay safely with PayPal or Credit Card.
Fast & Free Shipping
Enjoy fast & free shipping nationwide with FedEx / UPS / USPS / Estes.
Customer Service Time
8:00pm - 6:00am UST Monday to Saturday