Freestanding Tub Faucet - Up to 50% OFF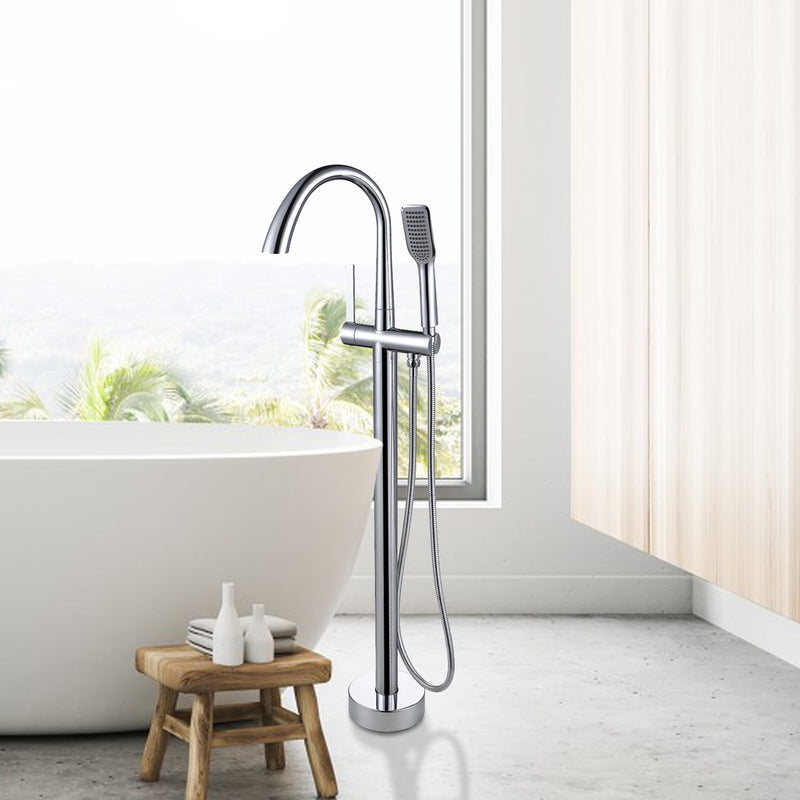 Elevate Your Bathing Experience with Freestanding Tub Faucets
Discover unparalleled luxury in our Freestanding Tub Faucet. Transform your bathroom into a haven of opulence with our carefully curated selection. From stylish bathtub faucets to versatile tub and shower combinations, our range caters to diverse preferences, providing a seamless blend of elegance and functionality.
Elevated Craftsmanship: Premium Materials, Drip-Prevention Innovation
High-quality freestanding tub faucets crafted from durable brass and stainless steel not only enhance bathroom aesthetics but ensure longevity and resistance to rust or corrosion. Modern designs often incorporate ceramic disc valve technology to prevent dripping, provide precise water flow control, increase durability by reducing wear and tear, and minimize the risk of leaks or drips.
Click Here to Expand or Collapse More

Functional Brilliance: Floor Mounted Tub Faucets with Handheld Showers

Immerse yourself in the convenience of our floor mounted tub fillers, each equipped with a handheld shower for added functionality. Our freestanding tub faucets redefine the bathing experience, combining ease of use with innovative features. Experience the luxury of controlling water flow effortlessly while enjoying the flexibility of a handheld shower, making your daily rituals a pleasure.

Enduring Style through Timeless Craftsmanship

Crafted for enduring style, our freestanding tub faucets go beyond utility, making a statement of enduring beauty in your bathroom. Explore the timeless appeal of our bathtub faucets and indulge in a bathing experience that harmonizes sophistication and efficiency. Redefine luxury with our tub shower faucet set today.

Applications: Elevate any space with our Freestanding Bathtub Faucets, enhancing homes and commercial settings such as hotels, spas, resorts, and salons.
Filters
Superior Quality Assurance
Home improvement made easy: kitchen and bathroom fixtures, patio furniture, and more. Exceeding your goals.
Budget-Friendly & Pay Safely
Save more with TopCraft! Choose from different products to suit your budget and needs. Pay safely with PayPal or Credit Card.
Fast & Free Shipping
Enjoy fast & free shipping nationwide with FedEx / UPS / USPS / Estes.
Customer Service Time
8:00pm - 6:00am UST Monday to Saturday