Enjoy the Luxury of a SPA Experience at Home with TopCraft Freestanding Bathtubs!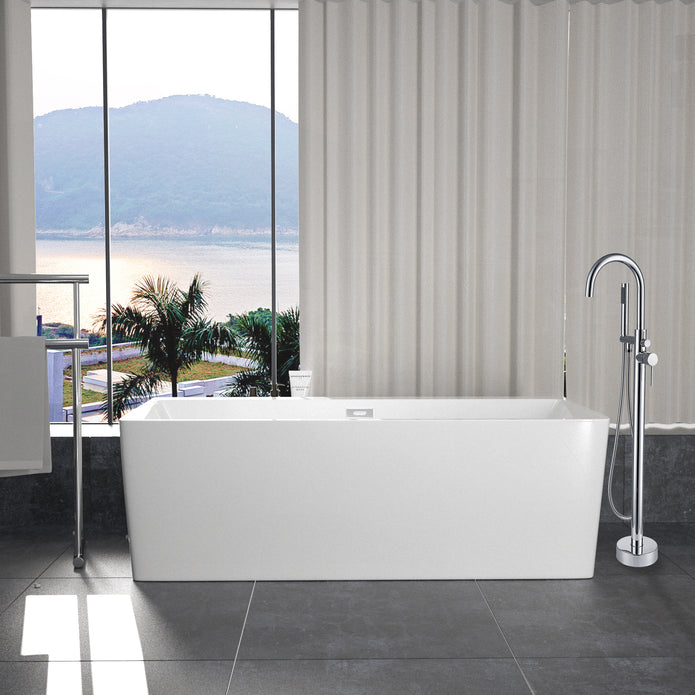 When it comes to bathrooms, we all want something that is both functional and aesthetically pleasing. But what if you could take it one step further and create a spa-like atmosphere in the comfort of your own home? This is now possible with TopCraft freestanding bathtubs! Freestanding tubs are a great way to upgrade your bathroom and add a touch of luxury to your home. But what exactly is a freestanding bathtub?
What is a Freestanding Bathtub?
Simply put, a freestanding bathtub is a bathtub that is not connected to the wall or floor. They are usually supported by four legs and come in a variety of shapes and sizes. Most freestanding tubs are made of either acrylic or fiberglass, making them lightweight yet durable. Freestanding tubs are a great way to add a luxurious touch to any bathroom. Not only do they look stylish, but they also offer a variety of benefits.
Benefits of a Freestanding Bathtub.
One of the main benefits of a freestanding tub is that it can be installed anywhere in the bathroom. This means that you don't have to worry about plumbing or draining, as the tub can simply be filled up with water. In addition, freestanding tubs offer more flexibility when it comes to design. You can choose the perfect size and shape to fit your bathroom, as well as the style and color.
Another great benefit of freestanding tubs is that they are much easier to clean. Because they are not connected to the wall or floor, you can simply use a damp cloth to wipe down the tub. This makes it much easier to keep your bathtub clean and free of germs and bacteria.
TopCraft Freestanding Bathtubs.
When it comes to freestanding bathtubs, TopCraft is one of the brands out there. They offer a wide range of tubs to choose from, including acrylic, modern, and 55 inch freestanding tubs. Let's take a look at some of their most popular offerings. 
Focus on TopCraft Acrylic Freestanding Tubs
TopCraft's acrylic freestanding tubs are made from high-quality materials that are both durable and stylish. These tubs come in a variety of sizes and shapes, making them perfect for any bathroom. The acrylic material is also easy to clean and maintain, making it a great choice for a long-lasting tub.
What is a Modern Tub Shower?
If you're looking to add a modern touch to your bathroom, then the modern bathtub and shower combination from TopCraft is the perfect choice. This tub features a sleek, modern design with a built-in showerhead and adjustable body jets. This allows you to enjoy a luxurious and invigorating shower, while still being able to soak in the tub.
About 55 inch Freestanding Tubs
The 55 inch freestanding tub from TopCraft is perfect for those who want a larger tub without sacrificing style. This tub is made from high-quality acrylic and features a built-in waterfall faucet. The built-in waterfall faucet adds a touch of luxury, while the larger size makes it perfect for those who need more space.
How to Create a SPA Experience with a Freestanding Tub?
Creating a spa experience in your own home is easier than you might think. All you need is a freestanding tub, some scented candles, and a few relaxing bath products.
To start, fill the tub with warm water and add a few drops of essential oils. This will create a calming and relaxing atmosphere in your bathroom. You can also add some Epsom salt or other bath products to help soothe your muscles.
Once the tub is full, light some scented candles and turn off the lights. This will help create a soft and relaxing atmosphere, perfect for a spa-like experience.
Tips for Choosing the Perfect Freestanding Tub
When choosing a freestanding tub, it's important to consider the size and shape of your bathroom. Make sure that the tub will fit in the space you have available, and that it will be comfortable to use.
It's also important to think about the type of material you want. Acrylic is a great choice as it is both lightweight and durable, while fiberglass is a bit heavier but still offers great quality.
Finally, take into consideration your budget. Freestanding tubs can range in price from a few hundred dollars to several thousands of dollars, so make sure to find one that fits within your budget.
 Conclusion:
Freestanding bathtubs are a great way to add a touch of luxury to your bathroom and create a spa-like experience in the comfort of your own home. With TopCraft freestanding tubs, you can find the perfect tub for your bathroom that is both stylish and functional. So, why not upgrade your bathroom today with a luxurious freestanding tub from TopCraft? Upgrade your bathroom with a luxurious freestanding tub from TopCraft today!