A Guide to Buying the Right Freestanding Bathtub for Your Bathroom - TopCraft
A bathtub is more than just a place to wash yourself. It can also be a relaxing oasis, a therapeutic spa, or a stylish focal point in your bathroom. But with so many options available, how do you choose the best bathtub for your needs and preferences? In this guide, we will help you answer some important questions and give you some tips on how to select the perfect bathtub for your bathroom.
Types of Bathtubs
The first thing you need to consider is what type of bathtub you want. There are different types of bathtubs that vary in shape, size, installation, and features. Here are some of the most common types of bathtubs:

Freestanding bathtubs: These are bathtubs that stand alone on the floor and do not need to be attached to any walls or surfaces. They are ideal for spacious bathrooms and can create a luxurious and elegant look. They come in various shapes, such as oval, rectangular, or clawfoot. Some examples of freestanding bathtubs are TopCraft Freestanding Acrylic Bathtub, Freestanding Soaking Bathtub.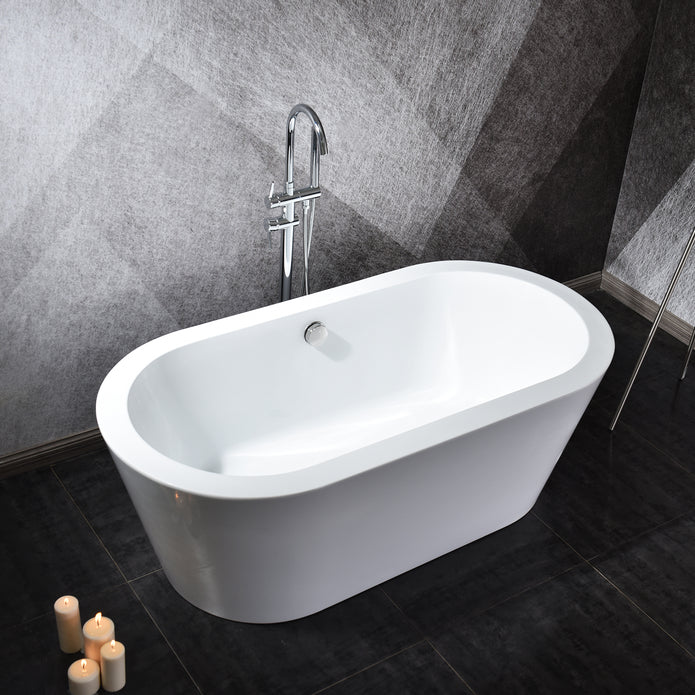 Materials of Bathtubs
The next thing you need to consider is what material your bathtub is made of. The material affects the durability, maintenance, comfort, and appearance of your bathtub. Here are some of the most common materials of bathtubs:

Acrylic: This is a type of plastic that is lightweight, durable, easy to clean, and resistant to scratches, stains, and fading. It can also retain heat well and offer a smooth and warm surface. It can be molded into various shapes and colors and is one of the most popular materials for bathtubs. 
Features of Bathtubs
The last thing you need to consider is what features you want your bathtub to have. There are different features that can enhance your bathing experience and provide additional benefits. Here are some of the most common features of bathtubs:
Soaking: This is a basic feature that allows you to fill your bathtub with water and immerse yourself in it for relaxation or hygiene purposes. Most bathtubs have this feature, but some may have deeper or wider dimensions to allow more water capacity or more room for movement.
Whirlpool: This is a feature that uses jets of water to create a massage effect on your body. It can help relieve muscle tension, improve blood circulation, and reduce stress. However, it can also be noisy, expensive, and require more maintenance and cleaning.
Air bath: This is a feature that uses air bubbles to create a gentle massage effect on your body. It can help soothe your skin, stimulate your nerves, and create a relaxing sensation. It is quieter, cheaper, and easier to clean than a whirlpool, but it may not provide as much pressure or intensity.
Combination: This is a feature that combines both whirlpool and air bath functions to give you the best of both worlds. You can choose to use either one or both at the same time, depending on your mood and preference. It can offer more versatility and customization, but it can also be more complicated and costly.
Summary:
Choosing the right bathtub for your bathroom can be a task, but it can also be a rewarding one. By considering the type, material, and features of your bathtub, you can find the one that suits your needs and preferences the best. If you want a freestanding bathtub, whether you want an acrylic bathtub, you can find it at TopCraft tubs, where you can browse through a wide range of high-quality and affordable bathtubs for your bathroom. Visit our acrylic bathtub collection today and get ready to enjoy your new bathtub!